AmpliFi AFI-R IEEE 802.11ac Ethernet Wireless Router - 2.40 GHz ISM Band - 5 GHz UNII Band - 1750 Mbit/s Wireless Speed - 4 x Network Port - 1 x Broadband Port - Gigabit Ethernet - Desktop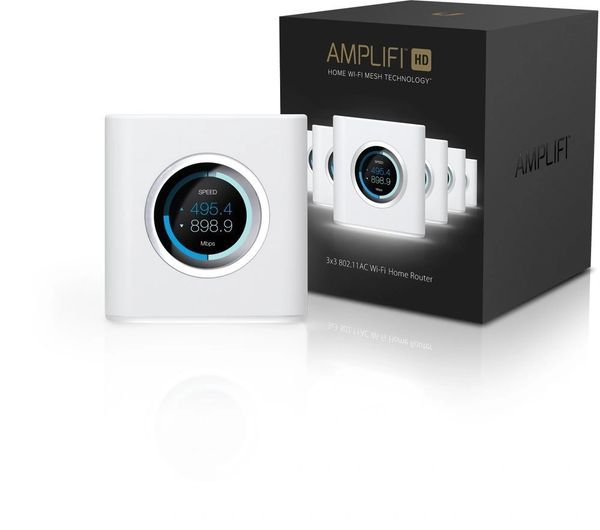 AmpliFi AFI-R IEEE 802.11ac Ethernet Wireless Router - 2.40 GHz ISM Band - 5 GHz UNII Band - 1750 Mbit/s Wireless Speed - 4 x Network Port - 1 x Broadband Port - Gigabit Ethernet - Desktop
Not Just a Wi-Fi Router, It's a Mesh Wi-Fi System
AmpliFi is more than a common home router: it's the ultimate Wi-Fi system. With turbocharged 802.11ac Wi-Fi, AmpliFi utilizes multiple self-configuring radios and advanced antenna technology to bring ubiquitous Wi-Fi coverage to any home.
Beautifully Designed
AmpliFi's uncompromising industrial design is meant to complement your home. Show it off proudly; your router is no longer something to hide.
Wi-Fi Mesh Technology for Complete Home Coverage

Dual-Band 802.11AC 3X3 MIMO Wi-Fi

Convenient Smart-Touch Display for Real-Time Status

Easy Setup and Powerful Wi-Fi Management using the AmpliFi App

Secure WPA2-PSK AES/TKIP Wi-Fi Encryption