Business Plan Unlimited Calling Throughout Canada/USA and The Territories plus all *Features.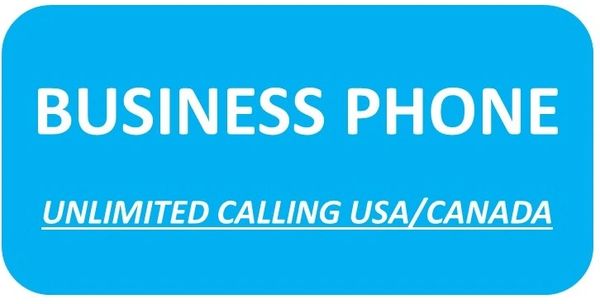 Business Plan Unlimited Calling Throughout Canada/USA and The Territories plus all *Features.
· Voice Mail when all lines busy
· Full Warranty on Service - Manufacturer's Warranty on Hardware
· Canada USA Calling - no Caps
· Unlimited Auto Attendants
· Unlimited Ring Groups
· Voice Mail and Voice Mail to Email
· Mobile Apps
· One Direct (Private) Number Per Line
· Conference Bridge - limited to number of Lines
· Flexible Night Answer
· Call Out List - one call per line
· Auto Company Directory
· Dial by Name
911 Calling: Lift your handset and dial 911. An Emergency service operator will assist you.
Caller ID With Name: Always know who is calling before you lift the handset.
Call Waiting: Never miss a call, if you have call display, we even tell you who the 2nd call is from.
Three Way Calling: Want to add a 3rd party to your call, just flash to hookswitch and dial them.
Call Transfer: Want to forward the call to someones cell phone, flash the hookswitch, dial the number and then disconnect.
Voice Mail: Make sure you never miss someone. Voice mail is an easy way to keep in touch.
Voice Mail to Email: An easy way to track your voice mail messages, send you an email with the voice mail attached to it.
Voice Mail On Line: Log onto your phone account, view, listen, forward or delete you voice mail messages with our user friendly web interface.
On Line Administrator: Friendly web interface allows you to easily setup cell phones, call forwarding, manage voice mail and view call history.
Last Number Redial: Easily redial the last number you dialed, lift the handset and press *66.
Do Not Disturb: Want some quiet time at home, lift your handset and dial *78 to turn it on or *79 to disable Do Not Disturb.
Call Forwarding: For times you are away and you want your phone redirected, lift the handset and dial *72 or use our the web interface.
Cell Mate: Need to always be in touch, set your phone to ring your cell phone at the same time it rings your home phone using the web interface.
Reverse Call: If you subscribe to our Canada/USA package, we include reverse calling from all of 613 area code as well as Toronto and Montreal.
Auto Attendant: Send all inbound calls to your automated attendant, multiple levels and choices with pre defined options.
Hunt Groups: The Hunt Group option lets you ring multiple phones at one, if no one answers, use a 2nd or 3rd option.
Day/Night Answer: Use live answer in the day time, then at noon, evenings or weekends, send you calls to the auto attendant, a remote phone or voice mail.
Cell LD: Reduce Cell Long Distance charges, or hide your Cell ID. You can call your local extension, then make a call to any external party you choose.
Key System Operation (KSO): Are your employees accustomed to a conventional Phone System. You can place a call on hold and pick it up at another extension by pressing a button.
Remote Office: This solution lets you place your phones anywhere there is a good internet connection, remote offices with a single management point are now the norm.
SoftPhone: For the travelling employee, install a softphone on their LapTop and they can keep in touch, even at a Tim Horton's - anywhere with public Wifi.
Remote Numbers: Doing business or providing service in other cities, add a local number for that city and your callers can reach you for free, giving the appearance you are local.