PREMIUM ANDROID BOX H8 LITE HIMEDIA TV BOX 64-BIT OCTO CORE 4KX2K, 1G/8G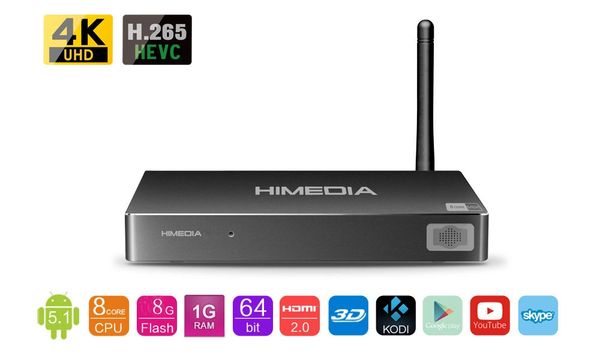 PREMIUM ANDROID BOX H8 LITE HIMEDIA TV BOX 64-BIT OCTO CORE 4KX2K, 1G/8G
PREMIUM ANDROID TV BOX HIMEDIA. GREAT QUALITY, HIGH END UNIT.
BRAND NEW ALUMINUM SHELL
The brand new aluminum shell is high- efficient in dissipating the heat generated when the CPU's working. HiMedia has established itself as the premium Android TV box manufacturer by designing its own high quality hardware. 

KODI MEDIA CENTER
KODI is a media player that allows users to play and view most videos,music,such as podcasts from the Internet,and all common digital media files from local and network storage media.The H8 Octa-core comes with pre-installed KODI,with integral hardware video decoding.

4KX2K@60FPS VIDEO PLAYBACK
The H8 Octa-core is capable of decoding and playing Ultra HD video,delivering an even clearer and better looking image when watching your media content on larger screens. The 4K2K UHD video playback feature means smoother edges and depth,producing a more detailed picture and a superior viewing expreience.

H.265 HARDWARE DECODING
H.265 is a video compression standard, a successor to H.264. H.265 can double the data compression ratio compared to H.264 at the same level of video quality. Compared to H.264, H.265 can transfer the same quality video data at half of the bandwidth, so users can enjoy the high-resolution video even at a low-internet speed environment.

HDMI 2.0
HDMI 2.0 significantly increases bandwidth up to 18Gbps and adds key enhancements to support continuing market requirements for enhancing the consumer video and audio experience.

BD-ISO AND 3D BD-ISO
BD rips in BDMV format and ISO are supported for playback.3D BD-ISO rips are supported. Subtitles in BD rips are supported. All BD support is via custom BD-Lite menus, not the original disc menu.

GOOGLE PLAY
The pre-installed Play Store allows simple installation of your favourite Apps. 

BUILT-IN WIFI
The H8 Octa-core has a WiFi(2.4GHz 802.11b/g/n) with a great high gain antenna. Simply connect to any network wirelessly with any security type and stream you favorite content without the hassles of wires.

AIRPLAY
AirPlay Steaming allows you to wirelessly steam media content from your iPhone,iPad or iPod touch to your HDTV.Show off your photos,videos,and more on your HDTV.
AirPlay Mirroring lets you show exactly what's on your iPhone,iPad or iPod touch to everyone in the room.What you see is what your show.

MIRACAST
Wireless screencasting of your media contents.

SMART IR REMOTE CONTROL
The new smart IR remote with progrmmable keys offers a great easy way to control not only the H8 Octa-core but also the HDTV at your home.

* Not pre-loaded.