Nest Wi-Fi Smart Learning Thermostat 3rd Generation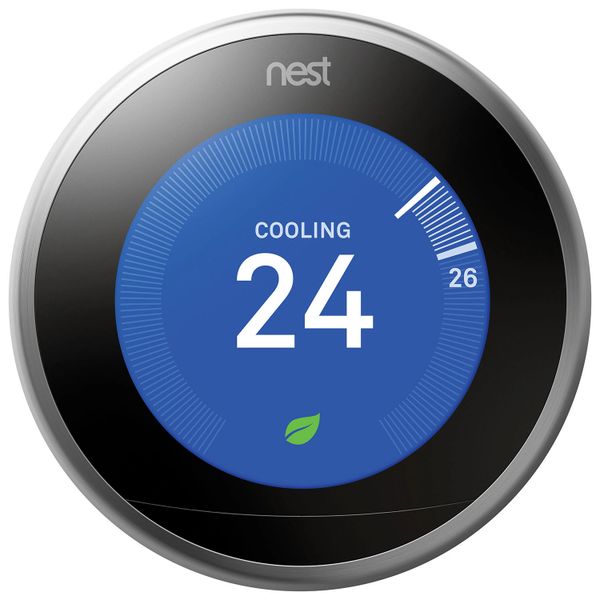 Nest Wi-Fi Smart Learning Thermostat 3rd Generation
Overview
Turn yours into a smart home with the Nest Learning Thermostat. It remembers what temperatures you like, learns your schedule, and programs itself to save energy. Its sharp 2.08" LCD display with Farsight lights up when you approach. WiFi connected, you can control it with your mobile device, and use it with numerous compatible smart home products.
More Information
Your home is your castle. But, castles can be notoriously hard to heat. Thankfully, you've got the Nest Learning Thermostat. It uses learning technology to figure out your schedule and your heating and cooling preferences to reduce your energy usage and save you money. Easy to install, it connects with your existing home network over WiFi and can be controlled from your mobile device, laptop, or computer. With a larger display and thinner design, the 3rd generation Nest Learning Thermostat is easier to read and includes Farsight that offers even easier readability from across the room.
Nest offers additional convenience and functionality with the Works with Nest Initiative. You can use Nest to link up with other Works with Nest compatible smart devices: A smart garage door can tell Nest when you've left the house, a smart door lock can notify Nest about who's arrived home and what temperature they prefer, and smart appliances can go into energy saving mode when Nest tells them that you're away. Saving on your energy bill and creating a connected home is easier than ever with the Nest Learning Thermostat.
What you need to know:
Innovation upgraded:

 The 3rd generation Nest Learning Thermostat is slimmer, but offers a big 2.08" 24-bit colour LCD display, with sharper 480 x 480 resolution that makes it even easier to read. With Farsight, it knows you're around and lights up so you can check the temperature, or time, at a glance from across the room.

Reduce your energy bill:

 Nest uses smart learning technology and learns your schedule and heating/cooling preferences over time. It then takes this data and programs itself in a way that reduces overall energy usage up to 20%. The environment and your wallet will thank you.

Smart savings:

 Nest is smart enough to turn down the thermostat when you're away at work, and it displays the Leaf icon to show you when it's at a temperature that's saving you money. Airwave automatically reduces air conditioning usage when indoor humidity isn't too high, so you'll get reduced energy bills while keeping the house cool.

Connectivity:

 Nest connects with your home's WiFi network so you can control it from your smartphone, tablet, or laptop from anywhere in the world. Compatible with mobile devices that use iOS 8 or later, or Android 4 or later with the free Nest app and Bluetooth 4.0 or set it up from your computer using USB connectivity and a web browser.

Remote monitoring:

 You can view Energy History on the Nest Mobile or Web apps so you can get detailed information about your energy usage and figure out how best to save. Plus, Nest lets you know something is out of the ordinary, like if the temperature is too low or too high, with an alert to your mobile device. You can even control your Nest Thermostat from your Apple Watch.

Weather aware:

 Nest monitors weather conditions so it can figure out how outdoor temperatures and weather affects your heating and cooling needs.

Works with Nest Initiative:

 Since Nest is smart and WiFi-connected, it's able to work with a variety of other smart devices to provide additional convenience and functionality, and the list of compatible devices is growing all the time.

Easy installation:

 As easy as installing a lighting fixture, Nest is simple to install, and probably in less than 30 minutes. If you'd rather let a professional handle it, you can contact a Nest Pro to install Nest, remove and recycle your old thermostat, and connect Nest to your WiFi network.
Compatibility
Nest works with over 95% of 24V heating and cooling systems, including gas, electric, oil, solar, hot water, geothermal, forced air, heat pump and radiant.
Heating: one, two, and three stages (W1, W2, W3)
Cooling: 1 and 2 Stages (Y1, Y2)
Heat Pump: with auxiliary and emergency heat (O/B, AUX, E)
Fan (G)
Power (C, Rh, Rc)
Whole home humidifier or dehumidifier (HUM, DEHUM)* - professional installation recommended
Dual fuel systems (heat pump with furnace)* - professional installation recommended
Common wire not required in 99% of installations
Incompatibility
The Nest Learning Thermostat is not compatible with line voltage, millivolt systems or low voltage systems with incompatible wires. The Nest Thermostat is not compatible with some systems without a common wire installed.
The Nest Learning Thermostat is only compatible with low voltage 24 volt systems, not line voltage or millivolt systems. While most low voltage systems are compatible with the Nest Thermostat, here are some exceptions:
Incompatible systems:
Remote sensors. While the Nest Thermostat may be compatible with this system, it won't be able to gather data from existing remote sensors.
Proprietary systems. Proprietary systems use a serial communications protocol to communicate between the system and the thermostat. The Nest Thermostat can't communicate with serial protocols, though some proprietary systems can be wired with standard HVAC wires.
Some micro-controller based systems. Systems that use micro-controllers instead of relays are sometimes more sensitive to power sharing. If so, the Nest Thermostat may need a common wire to be compatible with these systems.
High impedance systems. Some systems with particularly high impedance can't deliver enough power to the Nest Thermostat over the HVAC wires. If so, the Nest Thermostat will need a common wire to be compatible with these systems.
Incompatible wiring:
Three stage cooling. The 2nd generation Nest Learning Thermostat is only compatible with systems that have one and two stage cooling.
International systems. Some international systems, such as Buderus boilers, have dry contacts or other incompatible wiring. These systems may require relay panels in order to be installed with standard American thermostat wiring.
Heat pumps with L wires. The Nest Thermostat doesn't support Service Indicator (L) wire